RobZ – version 1.7.109.116
Hear ye, hear ye, ye scallywags!
Oh boy, it's been *looks at watch* quite some time since we've done one of these.
So, new version, after several months of development. What changed? What are the new things? Well it's just below this.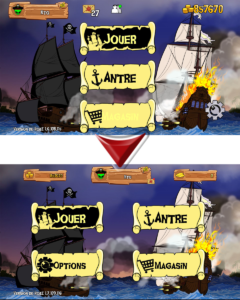 – Lots and lots of fixes, a bit of everything, from the multiplayer to the login.
Main Menu
Main Menu overhaul: out with the old, and in with the new! We wanted to simplify the navigation, so we had to change a few things.
Trying the ships: players can now try every ship, even if they don't have the required level, in order to find their favorite one.
Several changes were made pertaining to the navigation between menus.
Several changes made to the element's positions, sizes, etc…
 
Golden Run
New tutorial : it's now mandatory when players do their very first game. You can still disable it in the main menu, but you won't be able to see and hear the new things we've done.
The merchants can now be destroyed with the Patatorz. Don't hesitate to use it if you think your multiplayer is in danger…
Multiplayer
There's a new map for the multiplayer, please welcome the map "Extinguished Threat". It will be usable for every mode.
We tried to correct a bug where the buffer would only be the master client's one.
Others
Some texts were also redone and new were added.
So, what's next now?
Well, the next step is to work on several redesigns, such as the multiplayer lobby and new rules for the multiplayer Golen Run. And maybe we could try to start working on a story mode, if we feel up to it.
We'll let you know as soon as we can,
Starsheep Studio Team